Whether multi platform executions or small one off projects, we can provide concepts, creative direction and production, for film, animation, design, print and digital executions.
From full spectrum brand re-designs, to digital content and promotions, we work collaboratively with our clients to help develop their creative strategy and briefs and in turn, develop and deliver effective and engaging creative executions.
From concept to delivery and all points inbetween, we like to think
we offer a unique point of view.
The Nuw team have a wealth of experience, and over the years have worked in a wide variety of sectors on some of the world's best known brands..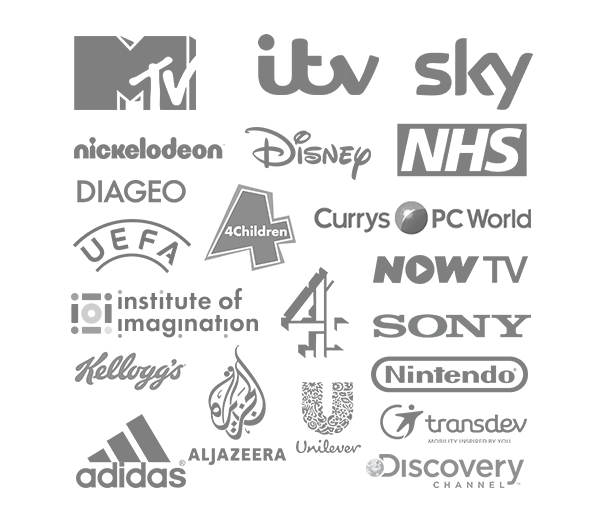 Paul is a Creative Director with over 25 years experience in the youth, entertainment, broadcast and corporate markets.
Before co-founding Nuw, he worked for MTV UK for 6 years in various creative head roles, becoming Creative Director: Brands with responsibility for the MTV brand portfolio and 360 degree multi platform creative executions.
A strategic thinker with a graphic design and film making background, he has an in depth knowledge of film making, advertising, animation, design, print and digital media.
Creative Direction
Georgia is a creative director and strategist with 20+ years of experience in TV branding and advertising in the Uk and international markets.
She spent 11 years as a creative director at MTV UK, developing and implementing the creative strategy for their portfolio of music channels.
After 6 channel launches (including MTV Flux, the first integrated web and TV channel) and 12 rebrands, she went on to open the London based office of U.S. motion design studio Superfad. Whilst running the broadcast division she worked with clients including Channel 4, five, Sky, MTV US, Nick US and the BBC.
Art Direction and Animation
Matt is a multi talented illustrator, animator, designer and visualiser.
He is equally adept at creating wonderful imagery with a pencil or a mouse, and his work has been used across film, print, press, merchandise and packaging for a diverse range of international brands including Lucasfilm, Marks and Spencer, Universal Music and Cath Kidston amongst many.
Matt is a strong conceptual thinker with the facility to get the best from a brief whether it's for a rock band or a retail brand.
As well as producing brilliant 2D work, he has the added ability to bring his visuals to life with animation and video, using a variety of methods including hand drawn, vector graphic, stop frame and live action techniques
Art Direction and Design
Designer, art director, videographer and motionographer - Cheng moves seamlessly between disciplines with enviable ease.
With a background in graphic and motion design, and a passion for art and technology, Cheng uses his considerable talents, and significant creative and marketing industry experience, to the benefit of brands big and small.
In a world of 360 degree digital communications, Cheng is the consummate all rounder - multi disciplined and multi platform. His creative flair and technical ability are complemented with a smart understanding of business requirements, and a proven ability to drive campaigns from concept to completion for brands such as Panasonic, Diageo, Unilever and more.
Video Direction and Production
With a background in the entertainment, arts and corporate sectors, and a thorough experience of the digital marketing world, Matt has the creative drive and technical skills to take any brief, script or idea and turn it into stunning and engaging visuals.
An accomplished videographer as well as director, he's as happy behind the camera as he is directing talent, where his degree in Performance: Theatre has proven to be invaluable experience. 
Whether a multi location project or a small, quick shoot; from pre-production to post; Matt applies himself with the same enthusiasm and attention to detail, throughout the whole of the film making process
.